WHAT TO EXPECT
We realise it can be pretty daunting walking into a church, especially for the first time! So if you're new to us, or thinking about coming along you can just turn up unannounced - we would dearly love to see you and we're all pretty ordinary folk here! -   So here's what you might expect to find on a typical Sunday morning... 
Parking 
If you come by car, you're very welcome to park in the church car park, at the front of the church, we have opened it up to the public generally but there are usually plenty of places available for parking during our services on a Sunday morning. 
If you come to our 10.30am service, you'll be greeted by one or two people - they'll probably give you a copy of the latest newsletter, no hymn books are required as the words of any songs we sing will be shown on an overhead projector screen. 
As you enter the building into the foyer area, there are toilets on the left, straight ahead is the entrance to what we call the Worship Area - this is where our services happen. Feel free to wander through and take a seat and you are welcome to sit anywhere, there are no reserved seats - Children are welcome and can play at the back of the church during the service. 
What should I wear? 
There is no dress code, so come in casual clothes or surprise us with your best outfit. 
What are the services like? 
There will be a very simple worship time at the start of the service where we sing a few well known Christian songs accompanied by a guitar & at times other musical instruments. 
There is usually a talk or sermon from the front, which lasts about 20-25 minutes and focuses on a particular theme or Bible passage 
There will be an opportunity to pray - usually led from the front, although you may hear various people praying during the service at different times during a time of open prayer. There is also an opportunity to receive some prayer if you'd like -  just ask one of the leaders during or at the end of the service. 
Sometimes we share in a time of communion together as a church family - you'll be guided how we do this if you'd like to receive the bread & wine or a prayer of blessing. 
We are open to the congregation to contribute during the service through a testimony or perhaps a specific 'word' they may feel God has given them or a  prayer or Bible reading as we believe each one us has their own unique gifting from God and can contribute in building up and encouraging the Church, however if you are new to us and have something specific to bring just mention to one of the leaders before you do so. 
Each service lasts around an hour to an hour and a quarter. We usually stand to sing and sit at other times in the service, but if it is unclear the leader or other people in the congregation will tell you what to do. 
We usually end the service with a prayer or song and tea / coffee is served at the end for those who wish to stay and chat.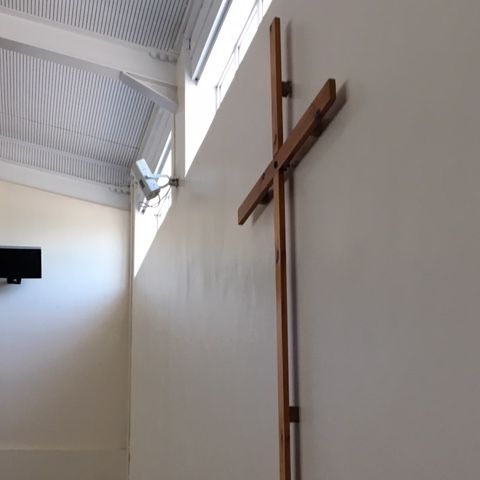 We welcome all people who share a Christian faith or those who have no faith at all and are just interested in coming along as we desire to serve, uplift, encourage and support families or individuals in any way we can.
And that's about it! Not so daunting really! - Obviously, all this simply explains some of the basic format of our Sunday services and what to expect, but our hope is that through visiting us, you'll experience & discover something of the love, the welcome & the good news of Jesus Christ the One who is at the heart of all we're about at Chase Baptist - Any questions, do just ask on the day or get in touch with us through our contact page.